Glencoe | January 2020
Elopement Wedding Photographer.
Small weddings are just awesome! I was lucky enough to be a second shooter with the one and only Neil Thomas Douglas back in January. This was my first elopement and what a great day it was!  With stags, dogs, great people, and amazing scenery we couldn't go wrong really! In this current climate, smaller weddings are going to feature more and more and this is no bad thing at all. Absolutely lovely to be a part of this day from start to finish.
Glencoe
Glencoe was epic and the weather played ball for us and Kat and Grant were awesome to work with! We started off at the Ballachulish Hotel which is situated where Loch Linnhe meets Loch Leven. The Ceremony was planned at Glen Etive so the weather was monitored with military precision!
A very chilled wedding morning ensued with lots of laughs and good banter and food. Just the way it should be! Stress levels close to zero for all involved!
Glen Etive in front of the "Little White House" on the bed of the river Coupall was the setting for a lovely fun-filled ceremony conducted by Gail Brack from Humanist Society Scotland. The wind blew strong but the rains stayed away! Such a stunning setting for a ceremony.
A fine mix of Yorkshire Ale and Malt Whiskey was blended in-situ and sampled with mixed opinions!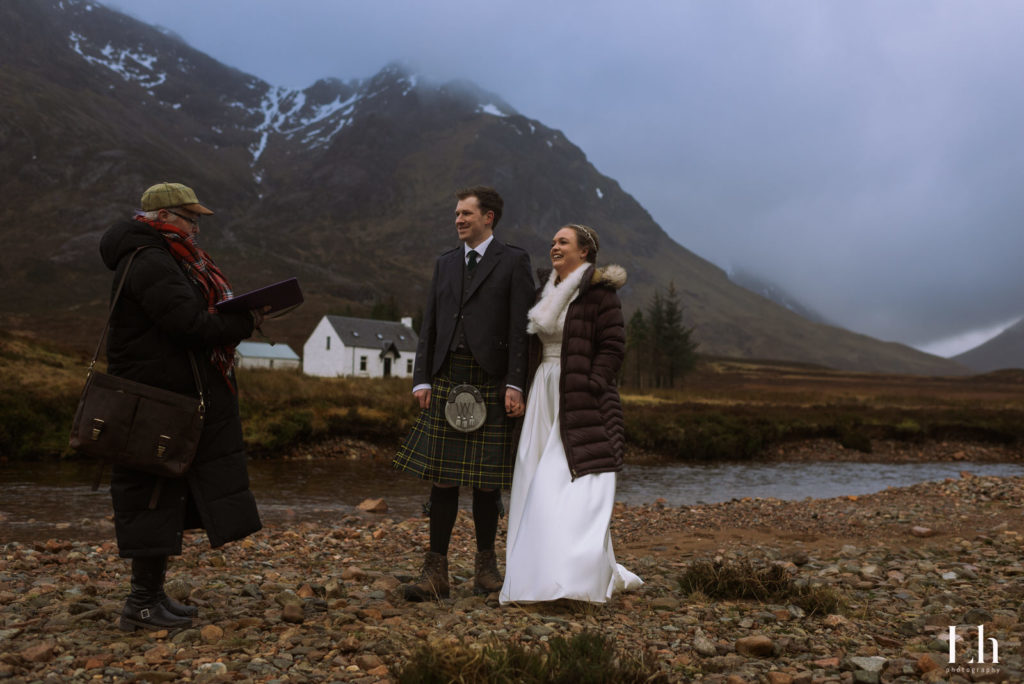 WE GOT A STAG!!!
A few drams at The Clachaig Inn followed before heading back to Ballachulish for the wedding meal and celebrations.
All the best to Kat and Grant in their future together and a big well done to all involved in making a brilliant day!
Small weddings are awesome and I'd love to be your elopement wedding photographer, Get in touch HERE to find out more!